This manual describe how to configure a X-Red.Com account in Gmail.
You must have a Gmail account and the X-Red.Com account credentials which includes
Username / Password
Incoming server / Outgoing server
1. Connected in your Gmail account click on Settings and then click on "Accounts and Import"

2. Go to "Check email from other accounts" and click on "Add an email account"

3. In the window form fill with your email account (in this example is demo@x-red.com) and press "Next >>"

4. Select "Import emails from my other account(POP3)" and press "Next >>"

5. Fill with your account information, remember the following image is an example, you must use your account credentials, servers and ports.
Select "Label incoming messages.." and then press "Add Account >>".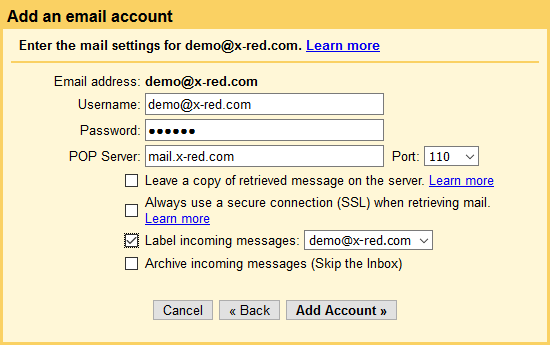 6. Select "Yes, I want to be able to send mail as…" and press "Next >>".

7. Fill your name and select "Treat as an alias.", then press "Next Step >>".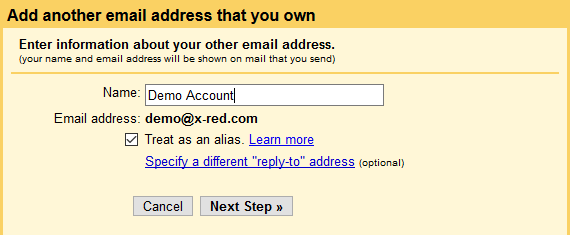 8. Fill the name of your SMTP Server, Port (in this case 25), Username (including the domain), Password and select "Secured connection using TLS", then press "Add Account >>".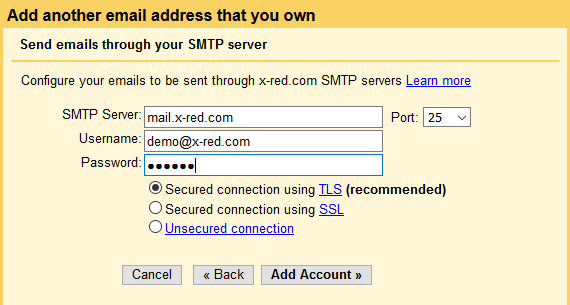 9. Gmail will send a confirmation email with a number, please use that number to verify the account by entering the confirmation code. Then press "Verify".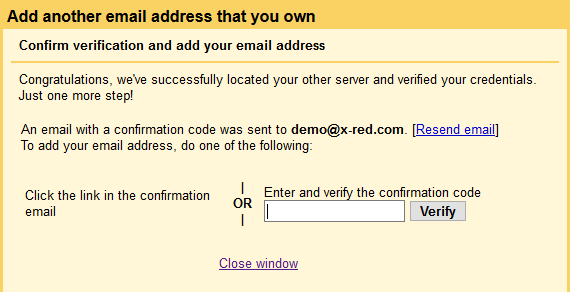 10. In the next screen, select "Reply from the same address to which the message was sent"

11. The configuration is done and now you are able to send an email from Gmail using X-Red.Com Servers.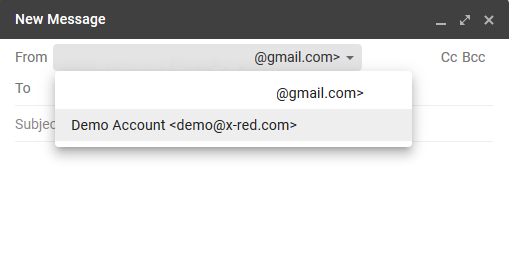 If you have any question feel welcome to contact us at support@xred.com.au